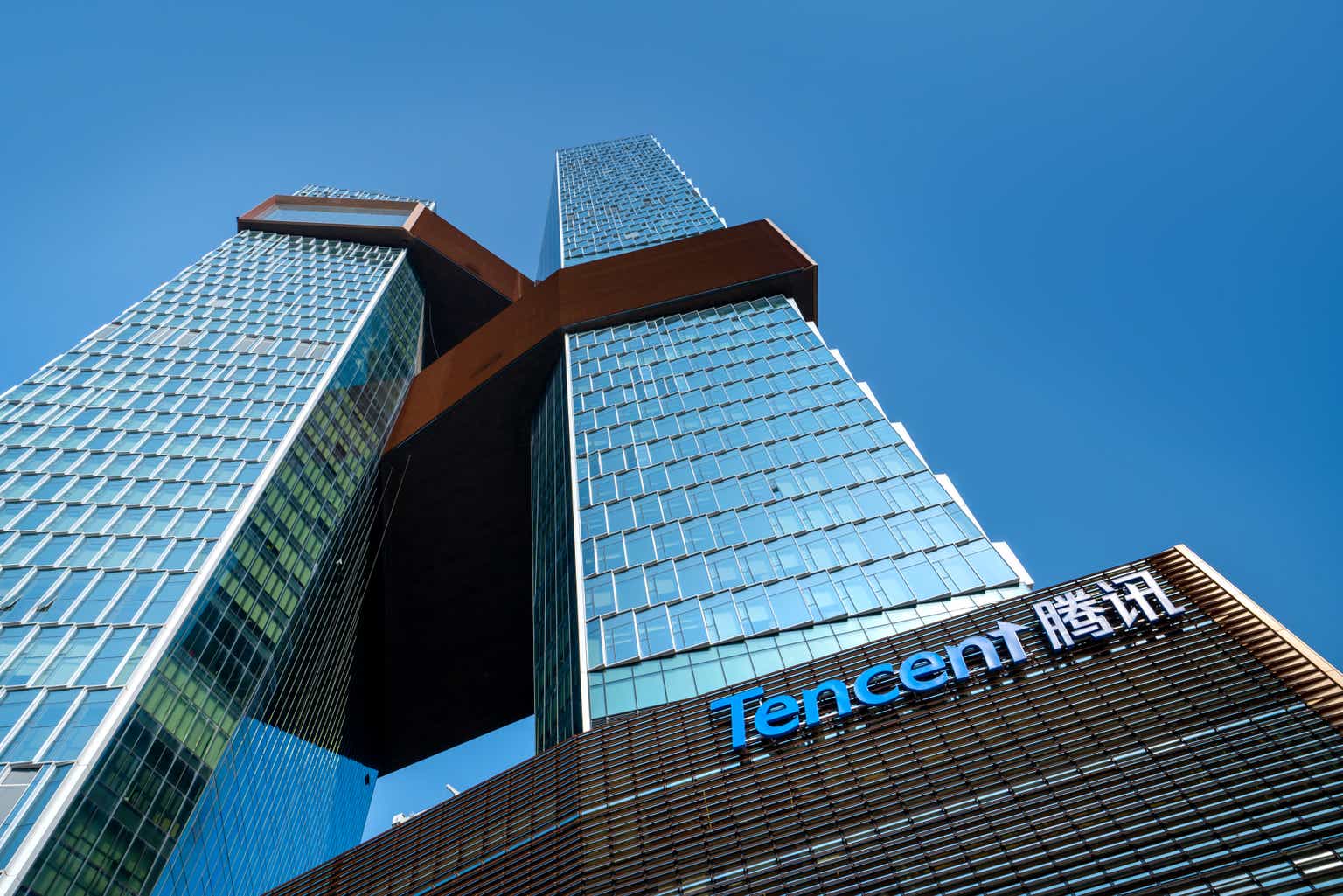 Tencent: New Growth Opportunities In Games Overseas And Short Video Ads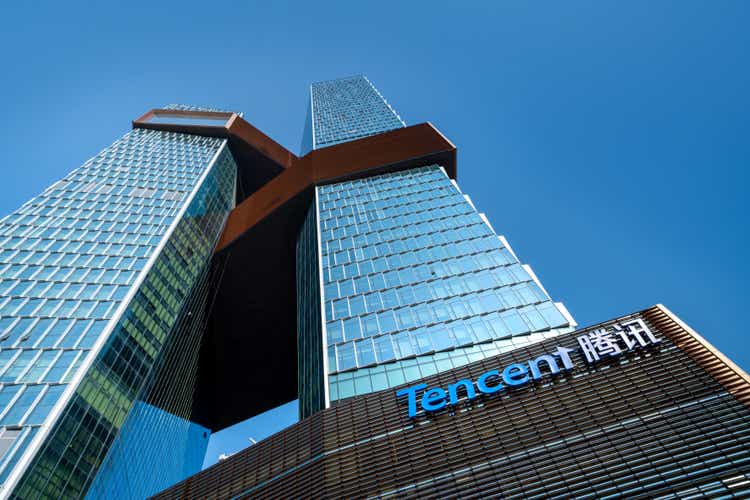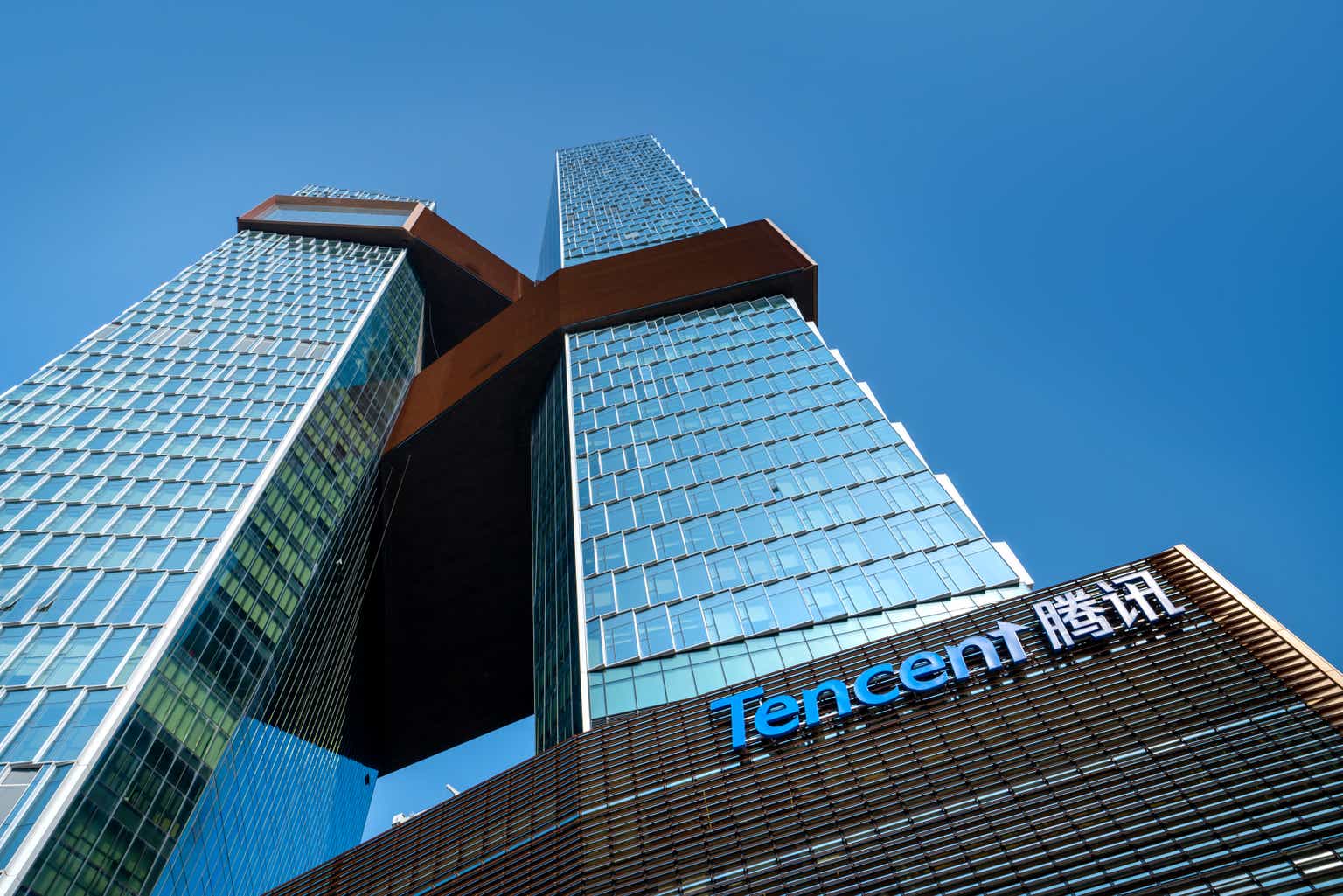 Chinese tech giant Tencent's (OTCPK:TCEHY) revenues have been decelerating over the past few quarters partly driven by a shrinking games industry as a result of a covid-induced economic slowdown and a crackdown by Chinese regulators on the country's Big Tech companies.
However arguably much of these headwinds are behind the company, and longer term there are reasons to be optimistic about the company's prospects.
Receding domestic game headwinds, overseas expansion
After decades of robust growth, China's games industry, the world's largest, saw sales contract in 2022, the first sales decline since 2005, largely the result of economic weakness and a regulatory crackdown on games companies starting in 2021, in an effort to curb gaming addiction, and purge unwholesome content (such as games with content that was violent, celebrated excessive wealth or fostered celebrity worship). China's overall gaming game sales grossed CNY 265.9 billion in 2022, a 10.3% YoY decline, while the country's gaming userbase shrank 0.33% YoY to 664 million users in 2022.
For Tencent, the world's top gaming company, headwinds to its biggest business (games accounts for about a third of Tencent's revenues) resulted in a drop in revenues over the past few quarters. For Q3 2022, domestic games revenues dropped 7% YoY "as transitional industry challenges resulted in lower paying user counts", after seeing a 1% YoY drop in Q2 2022, and in Q1 2022.
Tencent's domestic headwinds appear to be receding. Last year, the Chinese government restarted game approvals after an 8-month freeze, and the government's granting of 88 online game publishing licenses last month suggests the government's supportive stance towards the sector. Tencent was among publishers to secure licenses for a clutch of mobile game titles last year. Meanwhile China's accommodative monetary policy (China has been trimming interest rates since August last year) could stimulate game spending near term.
Longer term, China's mobile games market is still expected to see positive growth. As China moves up the income ladder, mobile game spending per user could increase, driving the market as well. China's mobile game average revenue per user (ARPU) at around USD 153 in 2022, is expected to increase to USD 175 by 2027.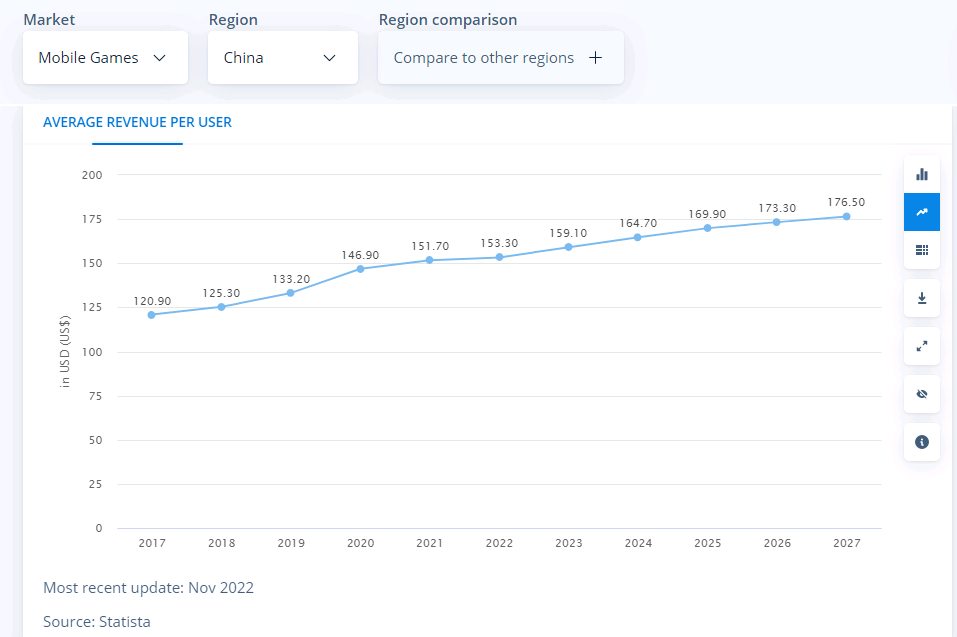 Global games market intelligence firm Niko Partners sees China's mobile games market reaching USD 40.53 by 2026 from USD 34.09 in 2022, representing a CAGR of 4.4%, a positive trend for market leader Tencent.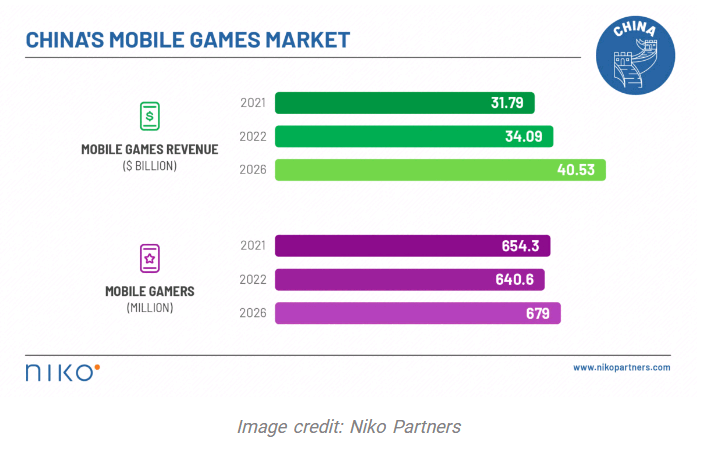 With much of the domestic online gaming market in its hands (Tencent commands a 51.5% share of China's online gaming market) Tencent is looking to drive growth through overseas expansion with ambitions to generate half of game revenues from outside China (up from about 25% currently).
The company's strategy is to create a global games ecosystem that integrates gaming, developing, and publishing systems and towards that end the company has been making aggressive investments and acquisitions in overseas game publishers, as well as acquiring distribution rights to expand its global reach. Notable acquisitions and investments made by Tencent recently include French games developer Ubisoft (OTCPK:UBSFY) (OTCPK:UBSFF), Copenhagen-based Sybo Games, Japanese game developer FromSoftware, British game developer Sumo, Slovenian game developer Triternion.
Tencent currently has a presence in the United States, Europe, the Middle East and Southeast Asia and is seeing positive traction overseas (overseas game revenues increased 3% YoY in Q3 2022, and 4% in Q1 2022, only dipping a slight 1% in Q2 2022), notably in the United States, Japan, and South Korea, the world's four biggest gaming markets after China. Tencent's new game "Goddess of Victory: Nikke", published by Level Infinite, Tencent's Singapore-based international games publishing arm, topped the App Store and Google Play Store rankings in several regions including North America, Korea, and Japan shortly after its launch last November.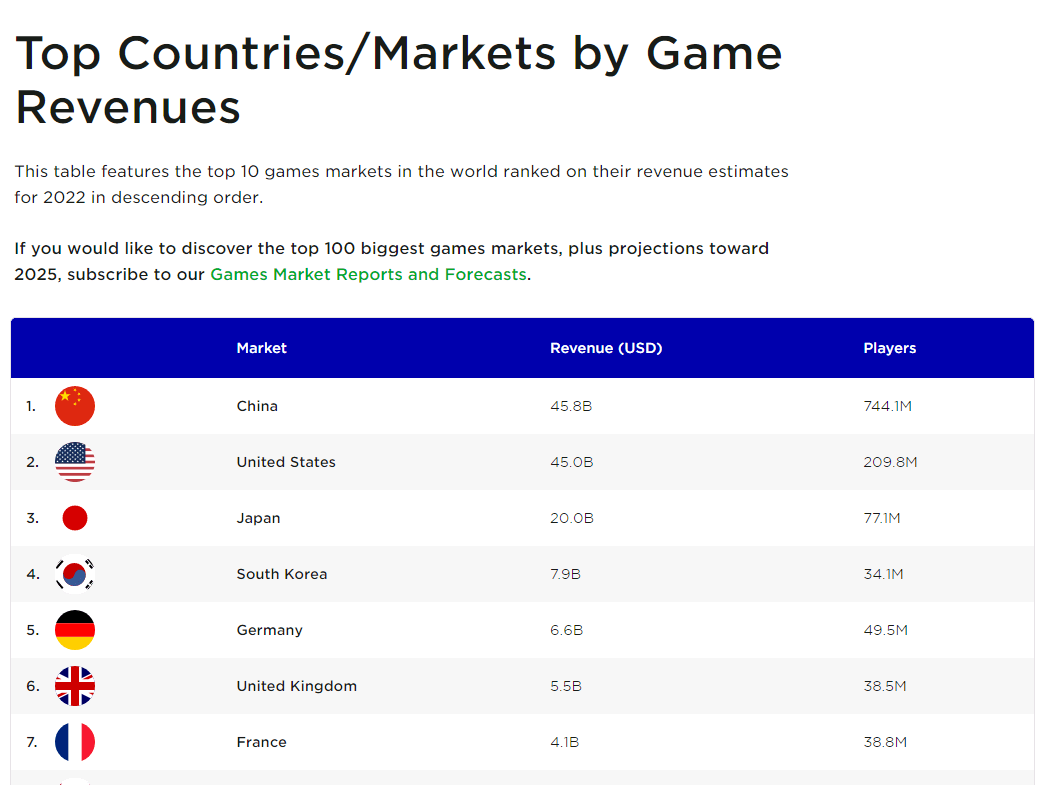 The revenue potential for these three markets alone is substantial. At around USD 451 in 2022, America's mobile game ARPU is three times higher than China's mobile game ARPU of USD 153 the same year, and further ARPU growth is expected in the coming years.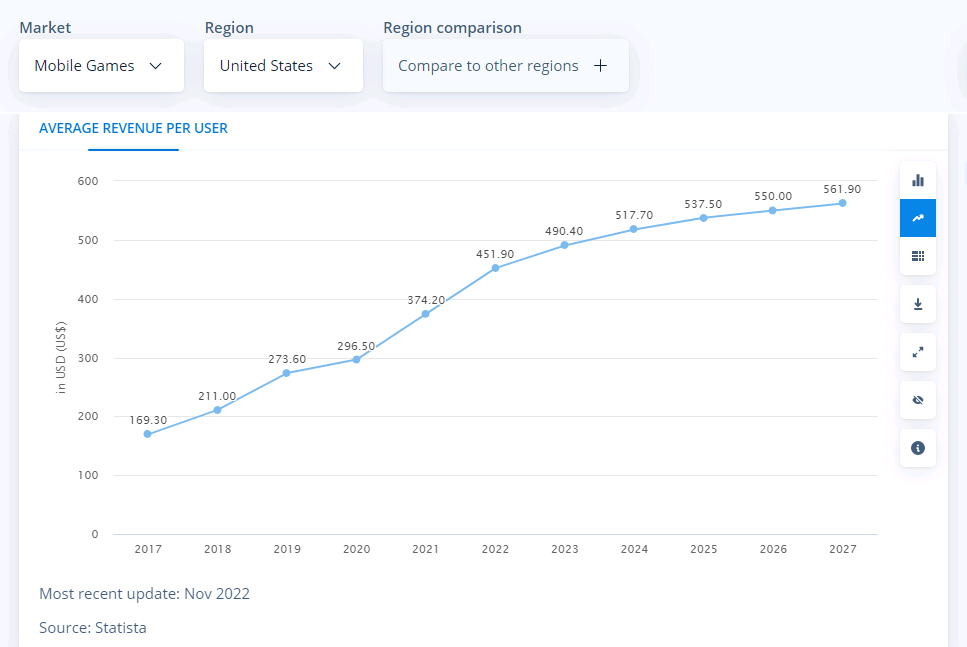 Japan and Korea, offer equally attractive revenue growth opportunities; both countries have higher ARPUs compared to the U.S., with growth expected over the coming years..
Advertising a potentially significant revenue driver
Advertising is currently Tencent's smallest business segment, accounting for slightly more than a tenth of revenues, but the segment holds potential to emerge as a meaningful revenue driver with short video emerging as the next battleground for Chinese digital ad spending.
The short video ad space is dominated by rivals Bytedance's Douyin (TikTok's sister app in China), and Kuaishou (OTCPK:KUASF) (OTCPK:KSHTY) and although a relative latecomer (Tencent launched WeChat Channels – Tencent's short video platform within its ubiquitous WeChat app – only in 2020, and began rolling out ads only in July last year) Tencent has several advantages that could help the company capture a share of China's ad spend on short video platforms. For one, influencers with a significant private following on WeChat (Tencent's messaging platform used by virtually everyone in China), could easily invite their users to follow them on their respective WeChat Channels accounts as well, which in turn helps Channels acquire traffic at a rapid pace, cost efficiently. Tencent has also made Channels very attractive to content creators and merchants in terms of entry thresholds and cost; for instance Channels charges merchants commissions of 1%-5% for sales generated on the platform 1% to 10% for merchants selling on Douyin. Meanwhile Channels users with just 10 followers could monetize their videos through ads, down from 1,000 followers earlier, versus Douyin requires content creators to have 10,000 followers to start monetizing. Tencent is also leveraging its vast ecosystem of consumer tech services to offer greater functionality for short video content creators through greater integration. For instance, content creators can conduct an interview using Tencent Meetings (Tencent's answer to Zoom), and easily livestream it on Channels. During the livestream, hosts can include product links that direct viewers straight to the product's Mini Program eCommerce store, which users can buy and pay for using WeChat Pay, all without leaving WeChat's app. Tencent's ecosystem and its resulting trove of consumer data could also potentially improve their recommendation algorithm, benefiting users (through more relevant content and advertising) and therefore advertisers as well. Rivals Douyin and Kuiashou arguably do not enjoy this ecosystem advantage.
Channels already has positive numbers to show for their effort; Channels views grew over 200% YoY, while video views based on AI recommendations jumped 400% YoY. Total GMV skyrocketed 800% YoY. With the platform gaining traction at a rapid clip, ad dollars are likely to follow and the potential is meaningful with Tencent poised to capture share, possibly from weaker rivals such as Kuaishou (whose ad monetization efforts are reportedly below internal expectations, partly due to not-precise enough algorithm recommendations, an advantage Tencent could exploit) and Bilibili (BILI). Kuaishou's ad revenues are estimated at over CNY 40 billion, Bilibili's ad revenues are around CNY 4.5 billion while Douyin generates a mammoth CNY 260 billion, compared with Tencent's ad revenues of just CNY 73 billion in 2021 (not generated from their short video platform which launched short video ads only last year, but from other online real estate across Tencent's sprawling ecosystem).
After taking a beating in November amid, the stock managed to recover some lost market value but is still down 22% over the past year.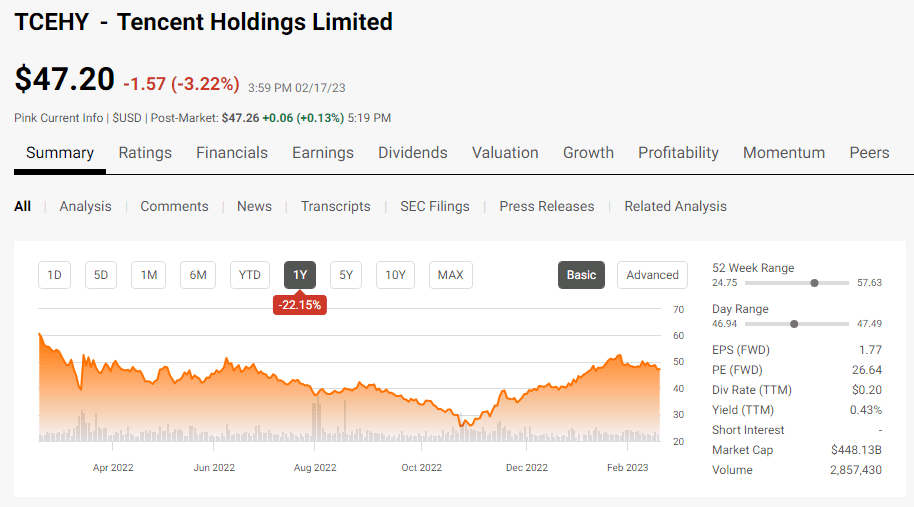 With a forward P/E of 26 and P/BV of more than 4, some may view Tencent as pricey but others may consider it fair for a highly profitable company with positive growth prospects at home as well as overseas, notably in developed markets such as the U.S. and Europe where considerably higher consumer spending power opens significant revenue and earnings growth opportunities.
| | | |
| --- | --- | --- |
| | Tencent | Microsoft |
| P/E (FWD) | 26.64 | 27.64 |
| P/BV | 4.28 | 10.5 |
| Net margin % | 31.95% | 33% |
| Return on equity % | 20.3% | 39.3% |
| Total debt/equity % | 44.86% | 42.58% |
Analysts are generally bullish on the stock.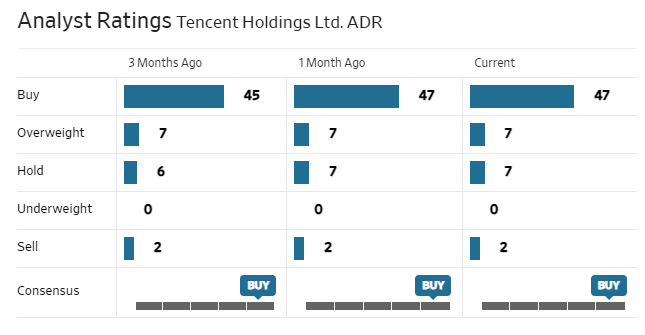 Editor's Note: This article discusses one or more securities that do not trade on a major U.S. exchange. Please be aware of the risks associated with these stocks.