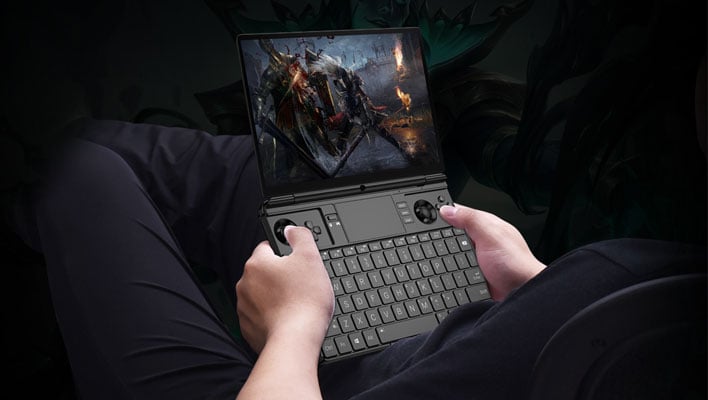 GPD Win Max 2 Handheld Gaming Laptop Pricing Revealed With Zen+ or Alder Lake Inside
GPD is sending its upcoming Win Max 2 handheld gaming PC to Indiegogo, and as it heads that way we get a look at official pricing. The company shared price points for several SKUs, including both the discounted crowdfunded tiers and retail pricing once the Indiegogo campaign comes to an end. Our initial impression is that while it's more expensive than Valve's Steam Deck, pricing actually looks fairly decent, given the hardware makeup.
Whereas the original Win Max was powered by Intel's Ice Lake platform, the Win Max 2 leans more heavily in AMD's direction, with three of the four configurations rocking a Ryzen 7 6800U processor based on Zen 3+. The sole Intel model has been upgraded to Alder Lake-P, and specifically a Core i7-1260P processor with 16GB of LPDDR5 RAM and a 1TB NVMe solid state drive.
The Ryzen 7 6800U is an 8-core/16-thread APU based on AMD's latest generation architecture (at least until Zen 4 arrives). It features a 2.7GHz base clock, up to a 4.7GHz max boost clock, and 16MB of L3 cache. And for graphics, it sports an integrated Radeon 680M with 12 GPU cores clocked at 2.2GHz.
As for the Core i7-1260P, it's a 12-core/16-thread Alder Lake processor with 4 P-cores clocked at up to 4.7GHz, 8 E-cores clocked at up to 3.4GHz, and 18MB of L3 cache. It's also equipped with Iris Xe graphics configured with 96 execution units and a 1.4GHz max clock speed.
Here's how the pricing shakes out for the different configs…
Ryzen 7 6800U + 16GB RAM + 1TB SSD: $999 on Indiegogo, $1,159 retail
Ryzen 7 6800U + 32GB RAM + 1TB SSD: $1,199 on Indiegogo, $1,359 retail
Ryzen 7 6800U + 32GB RAM + 2TB SSD: $1,299 on Indiegogo, $1,459 retail
Core i7-1260P + 16GB RAM + 1TB SSD: $999 on Indiegogo, $1,159 retail
Optional add-ons include a 4G LTE upgrade for $79 and a secondary 1TB SSD for $139. Additionally, GPD will offer a SKU that's exclusive to Indiegogo with a Ryzen 7 6800U, 16GB of RAM, and 128GB SSD for $899. It's only offering up 50 units of this configuration, and we imagine it will sell out quickly as the least expensive option.
Other specifications include a 10.1-inch bezel-less touchscreen display with a 2560×1600 resolution (it defaults to 1920×1200), a four-speaker surround sound system, Wi-Fi 6 and Bluetooth 5.2 wireless connectivity, SD card slot, Thunderbolt 4 (USB4) support, and keyboard and analog controls.
Systems like this draw inevitable comparisons to the Steam Deck, and even GPD acknowledges that on its crowdfunding page. They're different animals, though, with the Steam Deck being a handheld PC console similar in form to a Nintendo Switch, and Win Max 2 taking a more netbook (remember those?) style, albeit smaller and immensely more powerful.
Gamers who are torn between the two will have to decide between a cheaper price tag or higher end hardware. For reference, Steam Deck pricing checks in at $399 for 64GB of eMMC storage, $529 for the 256GB NVMe SSD model, and $649 for the 512GB NVMe SSD config.